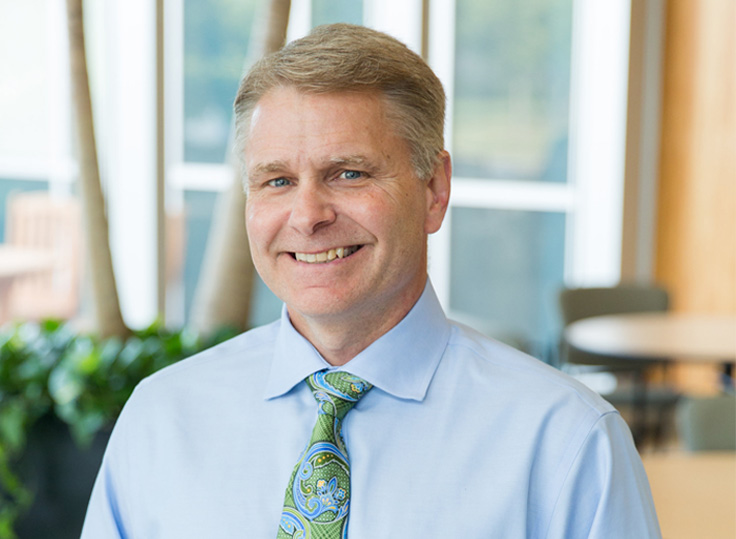 Education
Bachelor of Science degree in Biology with high distinction from the University of Kentucky

Summa Cum Laude Doctor of Medicine from the University of Louisville
Specialties
Voice disorders and laryngology

Spasmodic dysphonia

Dr. Hawkins is a Louisville native. He received his Bachelor of Science degree in Biology with high distinction from the University of Kentucky, and graduated Summa Cum Laude with his Doctor of Medicine from the University of Louisville in 1988. Following a residency at the University of Louisville, he was an assistant professor of surgery, division of otolaryngology, at U of L from 1994-1998. He co-founded Community ENT & Allergy in 2006 and has been in private practice since 1998.
Dr. Hawkins practices general otolaryngology, and sees both adult and pediatric patients. He has a special interest in voice disorders and laryngology, and is one of a few physicians in Kentucky who treats patients with spasmodic dysphonia. He also has extensive experience in pediatric otolaryngology, thyroid surgery, inner ear related dizziness, nasal and sinus disease, and evaluations for sleep disorders.
Dr. Hawkins is married to Kelly and has three children. Interests outside of medicine include cycling, hiking and thoroughbred horse racing. He is board certified in Otolaryngology-Head and Neck Surgery, and is a member of the Kentucky Medical Association and the Jefferson County Medical Association. He was former president of the Kentucky Society of Otolaryngology and current president of the Louisville ENT Society. In 2006 he was named one of Louisville's best doctors by Louisville Magazine.
Ready to reserve an appointment with one of our doctors?